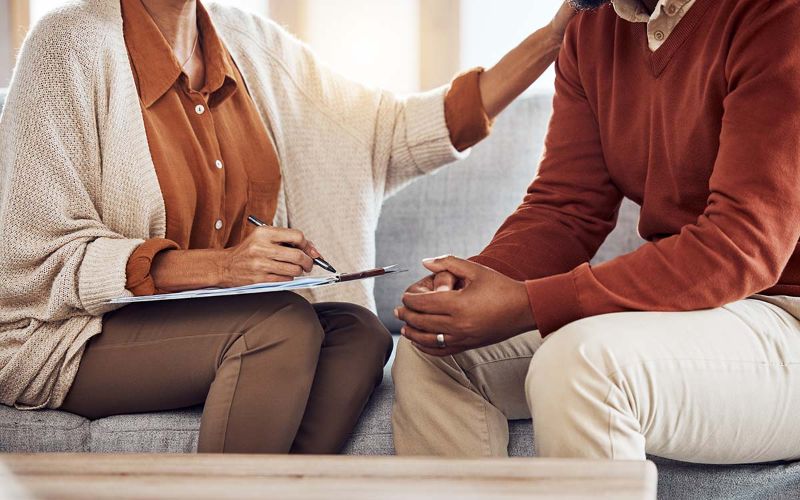 Our addiction therapy programs are tailored to meet the needs of each individual. Even the most complex addiction cases can be treated by us in an effective way.
How it works
Select a therapy program

Choose from a wide range of programs to effectively treat addiction.

Provide your details

To understand your requirements, we need a few details from you.

Review the program

Our highly trained staff will review the program with you to make sure it is the right fit for you.
Why choose Ace Medical for addiction therapy programs
Ace Medical gives you the opportunity to work with therapists trained in a variety of different therapy disciplines.

There is a program out there that's perfect for you. We provide treatment, supervision, and counseling to help you recover from all kinds of addiction.

Our therapists are among the most credentialed and certified addiction professionals in their field.
List of Drug Addiction Therapy Programs
When a person with an addiction problem is ready to seek professional help, they not only need the proper treatment, but they also need care that will be affordable and convenient. Ace Medical specializes in addiction treatment that is both affordable and convenient, by providing clients with a range of therapy sessions at various locations in Florida. Here is the list of popular therapies for addiction.
Group, Individual, and Family therapy:

Ace Medical provides individual or group therapy for patients suffering from addiction treatment. With the help of therapists and specialists, patients attend sessions tailored to their needs, from one on one to group activities that encourage peer support and family participation.

Cognitive Behavioral Therapy (CBT)

Cognitive Behavior Therapy is a type of psychotherapy. It helps people to change their behaviors, thoughts, and emotions. CBT is used in the treatment of many different types of substance use problems.

Contingency Management (CM)

Contingency Management (CM) is a drug addiction treatment program and intervention that motivates people to follow certain behaviors, such as maintaining sobriety, through material rewards. The main focus of CM is the reduction of substance use—including tobacco, alcohol, marijuana, and stimulants. One of the biggest benefits of this treatment is that it provides patients with tangible rewards for desirable behaviors.

Motivational Interviewing (MI)

Motivational interviewing focuses on assisting the recovering individual to change problematic substance use behaviors through therapy.

Dialectal Behavior therapy (DBT)

As powerful as emotions are, they can also be dangerous. DBT teaches clients how to manage their emotions in order to reduce self destructive behaviors. A DBT program consists of four skill sets: distress tolerance, emotion regulation, mindfulness, and interpersonal effectiveness.

Eye Movement Desensitization and Reprocessing (EMDR)

As an effective psychotherapeutic treatment, EMDR promotes emotional stability and symptom reduction by addressing traumatic memories and healing them. Clients work with their therapists to revisit traumatic memories so that they can heal.

Rational Emotive Behavior Therapy (REBT)

Rational Emotive Behavior Therapy is designed to help you identify and challenge your destructive thoughts and beliefs in order to replace them with more healthy and positive ones. This process will not only reduce the intensity of your emotions but can also improve your decision-making skills and help you achieve goals more efficiently.

Seeking Safety & Other Trauma

Focused Therapies It's a trauma-focused therapy. The goal of the program is to address the need for treatment that addresses the specific needs of clients living with co-occurring substance use and traumatic stress conditions, including drug dependency, co-occurring PTSD, depression, and anxiety.

The Matrix Model

It includes a unique, therapeutic environment in which people can explore the effects of stimulants and reduce their addiction potential. Patients work closely with therapists to create an individualized treatment plan that will help them overcome their addiction and change their life for the better.

12-Step facilitation

12-Step facilitation therapy is one of the most effective ways to help someone with substance abuse issues stay abstinent. It involves meeting people where they are, listening to them, and giving them support through 12-Step peer groups.
How can I find a therapy treatment program for addiction near me?
ACE Medical is a free service that assists patients in finding effective treatment options near them, or for addiction treatment. We can quickly help patients understand their addiction treatment options, offer them further free resources, and assist them in determining their next best steps.
Looking for a therapy treatment program for addiction in Florida? Get help 24/7 from Ace Medical. Reach us @ (904) 475-2039 to get an appointment.
Need some advice from our experts?
Request a Call Back Today Now!
We will make a single attempt to contact you from a withheld number, usually within 24 hours of your request.