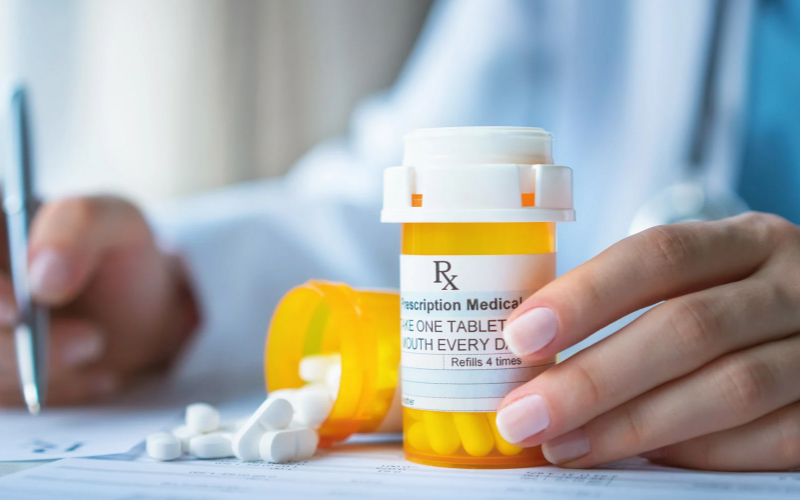 What is Medication Assisted Treatment (MAT) ?
Medication-assisted treatment (MAT) is a combination of using medications with counseling and behavioral therapies. This is the most recommended type of treatment for people suffering from various substance use disorder.
For those people experiencing an opioid use disorder (OUD), medication assisted treatment relieves oneself from the physical difficulties that one endures when their body has stopped taking opioids. Some of the major medications used in medication assisted treatment program include Suboxone, Subutex, Sublocade, Naltrexone, and Vivitrol.
Medicated Assisted Treatment helps in regenerating the regular brain functions, alleviate substance cravings and thus helps in avoiding relapse. The longer duration for someone in medicated assisted treatment, opioids and move towards real recovery.
Medication-assisted therapy for addiction offers these advantages:
Promotes more secure withdrawal by relieving signs as well as controlling yearnings
Decreases the threat of death because of overdose
Boosts retention in therapy with more secure, regulated medicines
Reduces controlled substance use and, with it, the possible threats as well as legal effects
Prevents regression when integrated with counseling and behavioral therapies
The Possible Drawbacks of Medication-Assisted Therapy
Though medication-assisted therapy is favored by numerous dependency medicine professionals, there are some drawbacks to consider.
MAT requires close medical supervision at a licensed facility
The effective drugs used may have unwanted side effects
The drugs offer the possibility for misuse or abuse
There is the risk of trading one dependency for an additional
Medication Assisted Treatment for Pregnant Women
Opioid agonist medication-assisted treatment (MAT) is the most used therapy for pregnant women with an opioid use disorder. The American College of Obstetricians and Gynecologists also recommends MAT for pregnant women with comprehensive medical counseling.
MAT and drug counseling is a necessary combination for pregnant women who want to maintain their sobriety and health during their pregnancy.
Medically assisted treatment, such as prescribed methadone or buprenorphine, is the best course of action to take if you are currently pregnant and dependent on opioids.
These long-lasting medications bind to opioid receptors on brain cells which blocks the euphoric effects of opioids and lessens the sickness of withdrawals without triggering any extreme symptoms. However, taking both these drugs during pregnancy can result in neonatal abstinence syndrome (NAS) in newborns. Thus, it is recommended to address the issue of NAS right after the new baby is born. Also, breastfeeding can help ease the symptoms of NAS and boost the baby's immune system.
At Ace Medical, we provide the best medication-assisted treatment for women with highly experienced professionals to help them to overcome opioid cravings and other symptoms associated with opioid dependence.
Suboxone Treatment
What is Suboxone?
Suboxone is made of a combination of buprenorphine and naloxone, used in treating patients from early stage of recovery from opiate addiction till the end. It is one of the most recommended prescription medication for a Suboxone treatment.
Suboxone comprises of two drugs in every film. They are buprenorphine and naloxone. Suboxone (buprenorphine/naloxone) is a branded prescription drug which is employed in the medication assisted treatment to reduce dependence on usage of drugs like opioid.
Buprenorphine is often called as partial agonist, which is responsible for interacting with the same opioid receptors exactly like all other opiates. This has a range of consequences as that of the similar drugs like some prescription pain relievers and heroin, but they have a much weakened effect. The first step of the Suboxone treatment includes the agonist binding itself to the opioid receptors, thus reducing the cravings by a larger scale for other stronger drugs.
Naloxone is often referred to as an opioid antagonist which is responsible for blocking the effects of an opioid overdose. The role of an antagonist is to bind itself to opioid receptors and thus blocking all kinds of effects caused by opiates in a system. Naloxone is a type of medication which comes in the form of a nasal spray or an automatic injection device. This medication is usually recommended for people who are overdosing on opiates and only for emergency purposes.
What Are the Benefits of Suboxone?
Suboxone is a prescription medication which is highly recommended by most of the addiction treatment specialists in Medication Assisted Treatment (MAT). This medication has the ability to reduce signs of opioid withdrawal and also reduces strong opioid longings. Despite that, suboxone treatment programs are mixed with therapy to resolves all kinds of issues and it is followed by post care support.
People who go to a Suboxone treatment center, which combines suboxone treament with behavioral therapy, find it easy to fight the addiction and cravings. This treatment is important in reducing the withdrawal symptoms and also helps in alleviating cravings caused due to the opioid overdose. People at a Suboxone Treatment center are very well explained and counselled about the treatments as education plays an important role in such treatments. The knowledge about the treatments help them gain required skills to effectively progress through the treatment and fight against the relapse.
Suboxone Treatment Clinics in Florida | Suboxone doctors – Ace medical
Our Suboxone treatment centers in Jacksonville, Riverside & St. Augustine is part of our medication-assisted programming that we offer to those who are wanting to end their opioid addiction for good. Our suboxone doctors can help you get the treatment you need for tackling your opioid dependence.
Subutex Treatment
What is Subutex treatment?
Subutex is a brand for a drug which contains buprenorphine, a partial opioid agonist made use of for the therapy of opioid dependence. Though the Subutex trade name item has actually been ceased, it was not done so for issues of safety or effectiveness; similar pharmaceutical products stay available today.
By functioning as a partial agonist on opioid receptors throughout the body, the buprenorphine in Subutex aids to stop or lessen withdrawal signs and symptoms in people recouping from opioid usage problems. When taken as suggested, buprenorphine can be a safe and efficient dependency treatment medicine.
Buprenorphine is used as part of a medication-assisted treatment (MAT) strategy, which integrates medications and behavior modification to treat material use conditions
Treatment with Buprenorphine
The ideal candidates for opioid reliance therapy with buprenorphine:
Have been fairly identified with an opioid dependency
Want to adhere to security precautions for the therapy
Have been cleared of any health and wellness conflicts with making use of buprenorphine
Have assessed various other therapy choices prior to accepting buprenorphine therapy
Before buprenorphine treatment starts, policies and treatments must be in person to ensure patient privacy and the privacy of directly recognizable health and wellness details.
Subutex Treatment Clinic | Subutex doctors – Ace medical
We have our Subutex treatment centers in various parts of Florida which includes Jacksonville, Riverside & St. Augustine FL. We are focused to help the patients overcome their overuse of drugs by using MAT.
We have the best Buprenorphine doctors in Florida. Our doctors are willing to help you through your recovery process in beating opioid addiction. You can also get a prescription for Subutex, Buprenorphine Hydrochloride from our Subutex clinics.
Need some advice from our experts?
Request a Call Back Today Now!
We will make a single attempt to contact you from a withheld number, usually within 24 hours of your request.